AIFM & ManCo services
Full scope Alternative Investment Fund Manager (AIFM) and Management Company (ManCo) solutions for alternative investment and UCITS funds. Both listed and unlisted structures across Luxembourg, London, Ireland and the Channel Islands.
European regulators set a very high standard for the fund management industry. Simultaneously, investors are pressuring managers for reduced fees, improved returns and enhanced operational infrastructure and transparency. MJ Hudson offers this infrastructure so that our clients can focus on generating returns.
Asset managers require increasingly more support and advice on governance and regulatory matters as the trend of regulatory complexity continues. Regulatory requirements include compliance policies and procedures, minimum standards for portfolio and risk management, capital requirements and systemic reporting requirements among others, for both the manager and the fund.
MJ Hudson provide a reliable, scalable and cost-effective governance, operational and regulatory solution. MJ Hudson's experienced professionals across Luxembourg, UK, Ireland and the Channel Islands have extensive experience in the risk management, portfolio oversight and operational requirements of funds throughout the alternative spectrum.
Utilising our AIFM & ManCo services enables clients to focus entirely on deal origination, execution and portfolio value creation, rather than spending time on activities that are non-core and increasingly burdensome. Not only are our solutions more cost-effective than building one's own infrastructure but are also increasingly favoured by investors.
For some examples of the work our team has completed, see here and here.
Who we work with
What we do
Director and substance solutions
Find both Executive and Non-Executive Directors (NEDs) in multiple jurisdictions.
The composition of a fund board is a critical component of a successful fund structure. This can be in order to fulfill regulatory or substance obligations, as well as source qualified independent management personnel who can add significant value to your investment proposition.
MJ Hudson can provide appropriate independent and qualified directors for both onshore and offshore jurisdictions. Our appointments can add to our clients' existing infrastructure, bringing an additional layer of rigorous corporate governance. When taking a role on a fund board, we work closely with our legal colleagues and the fund's promoter from the outset. Acting independently from the fund's administrator, we are able to provide comfort to investors on the proper oversight of the fund.
Such appointments can add considerable value by providing introductions to influential individuals and institutions.
Money Laundering Reporting Officer services
Money Laundering Reporting Officers (MLROs) available to meet ever enhancing Anti Money Laundering (AML) and Customer Due Diligence (CDD) obligations.
Regulators are constantly enhancing the anti money laundering rules and in recent years these obligations for financial market businesses have expanded from purely identifying clients to carrying out due diligence checks on service providers and investee companies as well as offering regular training to staff.
MJ Hudson has a dedicated team of experienced anti money laundering reporting officers who currently act as the outsourced MLRO function for fund clients. The MLRO will ensure adequate controls are in place to identify and prevent instances of money laundering. The MLRO is the escalation point for transactions that are deemed to be potentially suspicious.
The service has been designed to lead the way in best market practice and includes:
suspicious transaction reporting
oversight of the AML/KYC control environment
review of service provider reporting
review of investee company due diligence
ownership of company AML Policy document
provision of annual AML training
annual review of service providers
review of changes in regulatory requirements
liaison with regulators
ultimate responsibility for all MLRO obligations
fulfillment of all money laundering obligations and ensuring ongoing compliance
Operational infrastructure
Full day to day oversight and management of all service providers acting as your own internal COO function and middle office team.
In addition to strict regulatory obligations investors and regulators alike are pushing managers to increase their operational infrastructure and minimise operational risk.
The regulatory obligations enforce managers to carry out annual due diligence assessments on all service providers to the fund structure. Investors, especially institutions, are therefore also carrying out increasing levels of due diligence on the operational infrastructure at the level of funds and fund management teams. This includes analysis of the size of the team, provision of various policies and processes such as compliance, valuation, risk management and administration. As our clients grow they often find it difficult to grow their middle office teams at the same pace. This all causes bottlenecks and stifles growth as adding significant headcount within management teams for middle and back office personnel is time consuming and often an afterthought.
MJ Hudson's AIFM and ManCo teams take on the operational responsibility on behalf of our clients. We also offer this service as an outsourced solution to act as an immediate and variable add on for existing middle office teams. Our operational teams often face off against institutional investors to ensure they have confidence that the structures will be managed within the regulatory framework and that there are sufficient levels of professionals executing the day to day functions of the fund structure.
MJ Hudson will deliver a full middle office operational infrastructure ensuring our clients have more time to focus on investment performance and reducing the risk of operational failures / breaches.
Regulated Operator
Launch and operate your collective investment scheme ("CIS") efficiently through our Regulated Operator offering without the need to obtain you own permissions.
Establishing or operating a CIS is a regulated activity requiring authorisation from the Financial Conduct Authority ("FCA"). This process can be expensive and time consuming if you look to obtain these permissions yourself. MJ Hudson provides an efficient and cost-effective solution.
As Regulated Operator, we enable our clients to focus entirely on deal origination, execution and portfolio value creation, rather than spending time on activities that are non-core and increasingly burdensome from an administrative perspective. We review records to ensure compliance with FCA rules, approve admission and withdrawal of interests in the CIS, act as point contact for service providers, review and approve investment decisions, monitor the progress of transactions and review financial information for the CIS at appropriate periods.
Our team will help you run your CIS more smoothly, giving your investors comfort, knowing that you have a team with deep operational expertise behind you.
Regulatory reporting
Fulfil your regulatory obligations to report on fund and manager data.
Regulators require ongoing reports with tight timelines on trades, asset class, jurisdiction and investor exposures as well as risk management and stress testing.
FAQ BREAK
Regulatory reporting obligations can be highly complex with hard to navigate online reporting portals and formats. This can result in a very labour intensive exercise. The MJ Hudson team have extensive experience and dedicated personnel to ensure these reports are generated and submitted in a timely manner.
Risk management
Generate and analyse detailed risk reports at fund and portfolio levels presentable to the fund / GP board.
Monitoring risk is a matter of necessity. All investment returns involve some degree of risk; however, the reverse is not necessarily true. It is important to have a solid understanding of the key risks of your fund and portfolio, including a detailed mitigation plan, in order to understand the impact potential risks may have on the manager, fund and its investors.
The MJ Hudson team takes a bespoke approach to risk management, recognising the importance of tailoring your risk management policy to the fund profile and investment strategy. We will help you set and monitor the risk appetite for the fund and provide a plug-in infrastructure that will help you manage them. Where appropriate, MJ Hudson utilises top class technology solutions directly integrated into fund administrator and/or prime broker systems to take an independent portfolio feed on a daily basis.
The risk management team can run from daily to six monthly compliance checks against regulatory rules and prospectus mandates as well as NAV verification checks. For liquid funds this includes the full range of derivatives monitoring including global exposure, counterparty exposure and leverage, including both VaR and the commitment approach.
UCITS and AIFM designated individuals
Meet regulatory and substance requirements with specialist personnel.
MJ Hudson can provide individuals who are pre-approved by regulators to fulfil certain roles within an AIFM or ManCo. Both to satisfy local substance rules as well as simply provide enhanced infrastructure and support. Such individuals will act as our clients' internal personnel and fulfil a variety of regulatory and operational roles:
Compliance Officer
risk management
delegated function supervision
regulatory reporting
Money Laundering Reporting Officer
escalation and resolution management
Our designated individuals take a pragmatic and value add approach and seek to ensure that they fulfil the day to day executive management functions for which they are appointed. MJ Hudson seek to improve our clients' organisational effectiveness whilst allowing them to scale up their businesses, satisfy their regulatory obligations and maintain sufficient substance in local jurisdictions where portfolio management is delegated out of country.
Our specialist and pre-approved personnel are there to improve local compliance and infrastructure.
Our thinking
This report looks, firstly, at reactions to the result and the importance of the UK asset management industry, as well as the likely impact of Brexit and expectations for the negotiating process.
Research
MJ Hudson: Brexit Report Vol. 1
The report shows the expected impact of the Brexit vote on headcount in the City and asset flows in and out of the UK, at both industry and asset class levels.
Research
MJ Hudson: Brexit Report Vol. 2
webinar
Delayed exits in VC and the secondary opportunity
Will Roxburgh and Alexander Assim of Alicorn co-host a webinar on secondaries as a growing opportunity in venture capital, secondary market services, growing liquidity challenges, pricing in the market and more.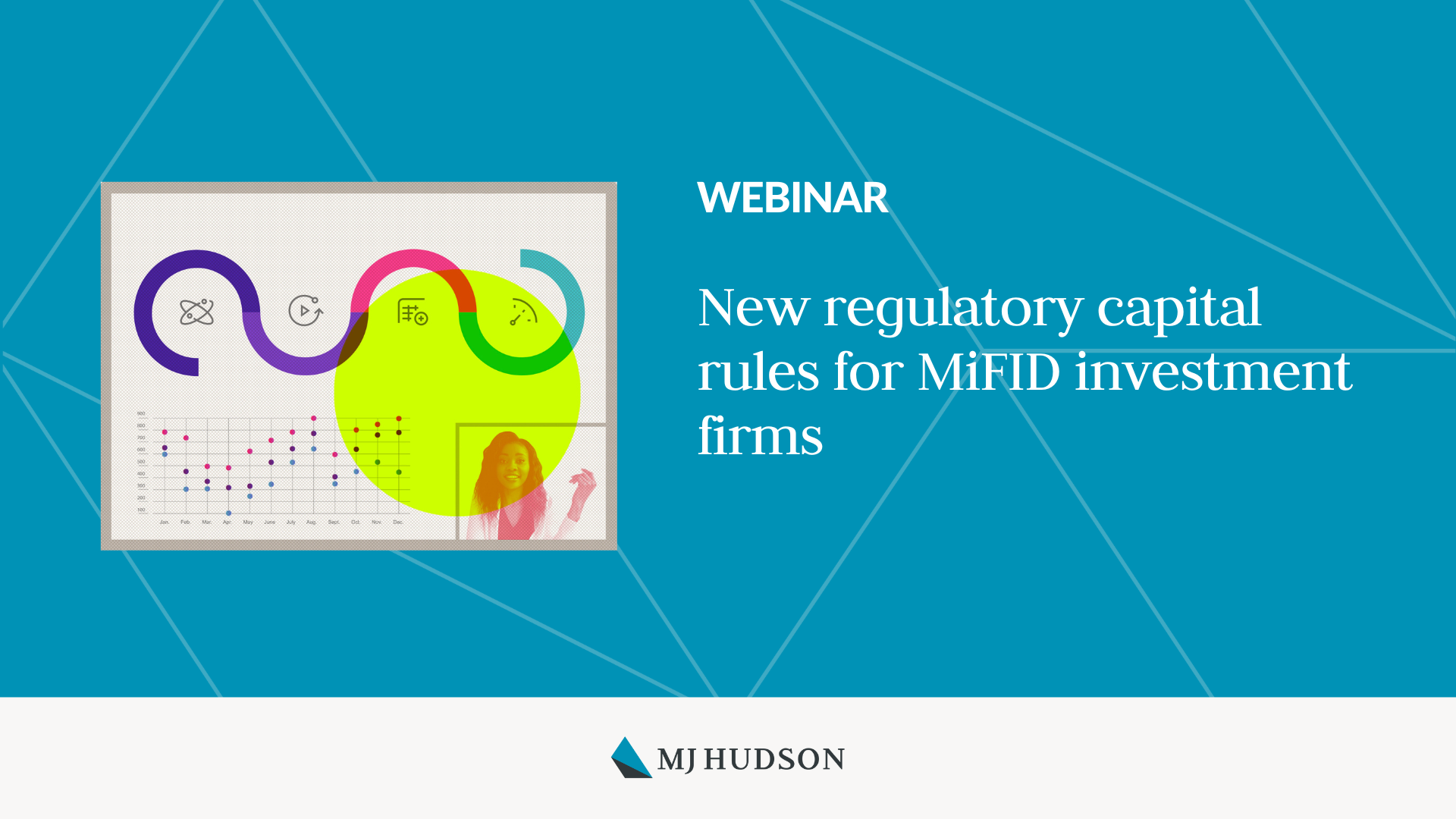 webinar
New regulatory capital rules for MiFID investment firms
This webinar focuses on the new regulatory capital rules coming coming into effect in 2022 for MiFID investment firms and is particularly relevant for those that currently have an exempt CAD regulatory capital calculation.
Sign up to email alerts