Regulatory solutions
A refreshing approach to financial services regulatory compliance.
MJ Hudson's regulatory solutions team serves the full spectrum of investment businesses in Europe. We have seven main business lines which are shown below (please click through for more information) and revolve around two core objectives:
business friendly: we are here to help you navigate regulatory complexity and help you do business quickly and efficiently
risk management: we seek to reduce your financial and reputational risks through providing robust but pragmatic advice and guidance
We serve the following investment segments: corporate finance, fintech, investment platforms, M&A, private equity, venture capital, UCITS, institutional investment management and investment advisory, private wealth management, infrastructure, hedge funds and businesses using distributed ledger technology and smart contracts.
If you're interested in insights and critical commentary on key conduct and prudential matters that are of relevance to the investment management community – consider subscribing to our newsletter or joining our Regulatory Solutions LinkedIn community.
Who we work with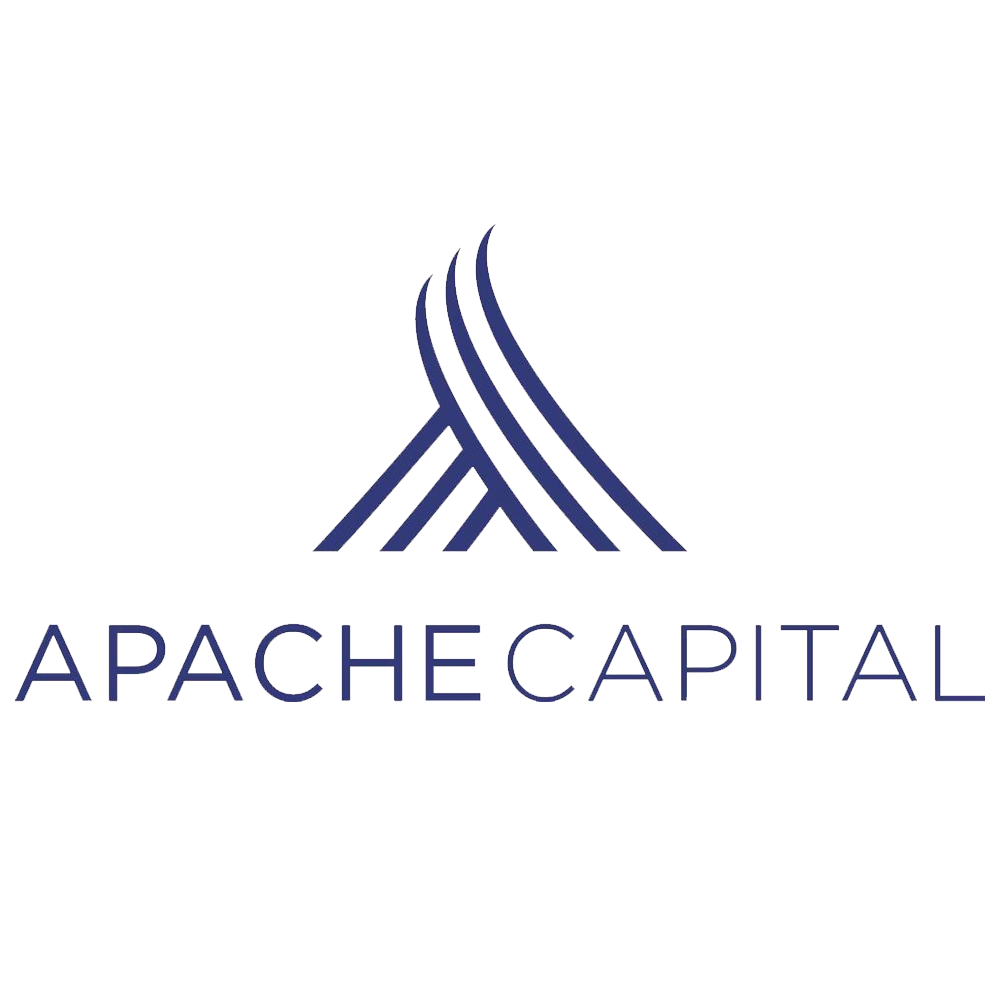 What we do
Appointed representative services
A trusted regulated hosting platform with know-how to access European investors – join the MJ Hudson family of Appointed Representatives (ARs).
Becoming authorised directly by the FCA can be a very time consuming process – up to 12 months. Firms are required to demonstrate to the FCA that they have a policy and procedure framework to comply with applicable rules and regulations and that they have sufficient regulatory capital. This may require the firm to procure additional compliance expertise, develop a compliance operating framework from scratch and may reduce the availability of working capital to fund growth.
MJ Hudson provides AR solutions to our clients, enabling them to operate within the regulatory framework quickly and efficiently whilst ensuring cost effectiveness is a key focus point.
Under MJ Hudson's umbrella, a firm can become authorised as an AR within a matter of weeks and at minimal cost. We have two main objectives:
Business friendly: we are here to help you navigate regulatory complexity and help you do business
Risk management: we seek to reduce the financial and reputational risks of our ARs and the individuals that own and manage them
As a Principal Firm we offer a streamlined and efficient on-boarding process. This gives firms the ability to begin regulated activities as soon as possible. Once on-boarded, MJ Hudson agrees with you a bespoke monitoring programme to ensure compliance with FCA regulations and guidelines applicable to individual ARs. Included within the MJH service and at no extra cost:
compliance advice and guidance through a dedicated support team;
training for approved persons;
software solution to streamline compliance tasks and record keeping;
review of investment advice and financial promotions; and
regulatory reporting to the FCA.
Additionally, our legal experts are available to help with any structuring or shareholder matters and our experienced marketing professionals can provide institutional quality materials to promote your business and/or attract investors.
Choosing MJ Hudson's Appointed Representative team will give you access to a market leading compliance function that will help you do business whilst mitigating personal and business risks.
Company secretarial
Money Laundering Reporting Officers (MLROs) available to meet ever enhancing Anti Money Laundering (AML) and Customer Due Diligence (CDD) obligations.
Regulators are constantly enhancing the anti money laundering rules and in recent years these obligations for financial market businesses have expanded from purely identifying clients to carrying out due diligence checks on service providers and investee companies as well as offering regular training to staff.
MJ Hudson has a dedicated team of experienced anti-money laundering reporting officers who currently act as the outsourced MLRO function for fund clients. The MLRO will ensure adequate controls are in place to identify and prevent instances of money laundering. The MLRO is the escalation point for transactions that are deemed to be potentially suspicious.
The service has been designed to lead the way in best market practice and includes:
suspicious transaction reporting
oversight of the AML/KYC control environment
review of service provider reporting
review of investee company due diligence
ownership of company AML Policy document
provision of annual AML training
annual review of service providers
review of changes in regulatory requirements
liaison with regulators
ultimate responsibility for all MLRO obligations
Fulfil all money laundering obligations and ensure ongoing compliance.
Outsourced compliance
Outsource the management of your ongoing compliance and regulatory obligations to our team of experts.
You will be provided with outsourced compliance support from a dedicated Compliance Manager that is supported by a wider internal team of accountants, lawyers, investor relations, risk managers and investment professionals.
Our ongoing and outsourced compliance solution offers you the necessary support to meet your ongoing compliance and regulatory obligations.
Our team will assist you with the following ongoing services:
compliance monitoring
board reporting
regulatory reporting to the FCA
training of staff
policy updates
regulatory news updates
approved person applications
ICAAP updates(where applicable)
technical advice
regulatory capital monitoring
review of marketing materials
complaints handling
AML support
All the above is supported by RegIQ, our online compliance management system.
We are interested in forming long term relationships with our clients, working hand in hand with you to mitigate your compliance risk whilst helping you do business.
Privacy and data protection solutions
Conduct your business with the confidence that you have met your regulatory data protection obligations.
While many organisations struggle to come to grips with complex data protection legislation and the requirements which apply to them, you can rely on our guidance and support to steer you in the right direction to ensure that you are on the right path. Demonstrating compliance with this key area of law will make you more attractive to clients and investors alike and will build confidence in your brand overall.
MJ Hudson takes a no-nonsense approach to data protection, focusing on providing efficient, timely, client focused advice to suit your business needs. We will consult with you and identify the gaps in compliance within this area and provide you with suggestions to plug the same. Once agreed, we can provide you with template key compliance policies to reflect GDPR standards, such as those detailed below, or conduct gap analysis reviews on your existing polices:
general data protection policy
human resources data protection policy
subject access policy
data security breach response policy
acceptable use policy
social media policy
bring your own device policy
data retention policy
CCTV policy
Other services include data security breach prevention and data breach management, subject access request management, representation to the ICO, international data transfers and advice and support as required.
Our approach will quickly allow you to receive a snapshot of the key areas of data protection within your organisation which require immediate attention and a plan for remediation which we will execute efficiently with your cooperation.
Regulatory advice
We can provide advice on a wide range of regulatory topics:
advice on new products and services
governance
front office controls
financial risk management
financial crime
prudential
market abuse
conduct risk
client money and assets
data protection
financial promotions
Our FCA advisory team can assist with any advice required. Please contact our team (regulatoryadvice@mjhudson.com) for more information.
Regulatory change
Design and operationalise regulatory change programmes.
Financial services firms live in a context which is characterised by change. They face complex regulatory environments, and are challenged to interpret, implement and operationalise changes in regulations. Firms need regulatory experts who help them navigating the rules and conduct business in a compliance manner.
Regulatory change just keeps on coming. Our dedicated team of regulatory experts can help firms determine how change will impact their businesses and provide efficient implementation solutions by:
project management: designing specific regulatory change programmes and mobilising experienced project managers;
gap analysis: conducting a gap analysis and identify how their existing business model and framework will need to change to comply with the new regulations;
policy support: offering policy support and updating your policies and procedures or providing suitable tailored templates;
practical procedures: working with the business to implement effective control structures or new technology; and
legal opinions: leveraging and engaging with our well-established legal practice who can provide opinions on regulations.
Areas: SMCR, GDPR, benchmark regulation, LIBOR, MiFID II, cyber security, crypto Regulation, MAR, asset management market study, EMIR, culture and conduct, ESG, CRD V.
Our team will offer pragmatic solutions allowing you to deal with regulatory change effectively and continue doing business in a compliant manner.
UCITS and AIFM designated individuals
Meet regulatory and substance requirements with specialist personnel.
MJ Hudson can provide individuals who are pre-approved by regulators to fulfil certain roles within an AIFM or ManCo. Both to satisfy local substance rules as well as simply provide enhanced infrastructure and support. Such individuals will act as our clients' internal personnel and fulfil a variety of regulatory and operational roles:
Compliance Officer
risk management
delegated function supervision
regulatory reporting
Money Laundering Reporting Officer
escalation and resolution management
Our designated individuals take a pragmatic and value add approach and seek to ensure that they fulfil the day to day executive management functions for which they are appointed. MJ Hudson seek to improve our clients' organisational effectiveness whilst allowing them to scale up their businesses, satisfy their regulatory obligations and maintain sufficient substance in local jurisdictions where portfolio management is delegated out of country.
Our specialist and pre-approved personnel are there to improve local compliance and infrastructure.
UCITS, Annex IV and PRIIPs KID Services
MJ Hudson Quantitative solutions provides a managed service solution to provide Annex IV filings, UCITS reporting and PRIIPs KIDs, EMTs and EPTs altogether known as RiskMonitor® RegTech. Our solutions support investment firms subject to EU and UK regulations by providing the risk metrics, data and reports to meet the regulatory risk reporting requirements of: UCITS, PRIIPs, and the AIFMD.
Managed Annex IV
XML Filings to meet any EU regulatory format
solution for any asset type including private equity and real estate
provision of full filing or delivery of specific risk inputs including: VaR, greek
stress-tests and liquidity
complementary risk reporting
UCITS reporting
UCITS restriction monitoring
absolute VaR – UCITS compliant
global exposure
exposure by counterparty
liquidity analysis
PRIIPs/EMT/EPT
meets requirements of traditional and liquid alternatives – i.e. category 2 PRIIPs
cash flow model supports performance scenarios for Category 1 PRIIPs
high presentation quality KIDs with bespoke client specific templates
transparency on calculations and supporting materials to enable board appraisal and evaluation
ongoing monitoring and transmission to fund platforms
Our thinking
Regulatory, market and financial pressures continue to erode transitional asset management industry margins. These pressures have promoted many to consider how their businesses are structured and which functions remain core and which can be outsourced. We review the background to these pressures and considers the arguments to outsource an Investment Manager's trading capabilities.
Market reviews
Outsourced Trading
On 10 March 2021, the Sustainable Finance Disclosure Regulation ('SFDR') entered into force. Covering any fund manager marketing to or based in the EU, SFDR imposes a range of new sustainability disclosure obligations. Despite the wide reach and significance of this landmark regulation, many are unsure on exactly how SFDR impacts them and what they are now obliged to disclose. This guide explores the aims of the SFDR, as well as explaining, in depth, what information financial markets participants must disclose, where they must do this, and by when.
Guide
EU Sustainable Finance Disclosure Regulation: What you need to know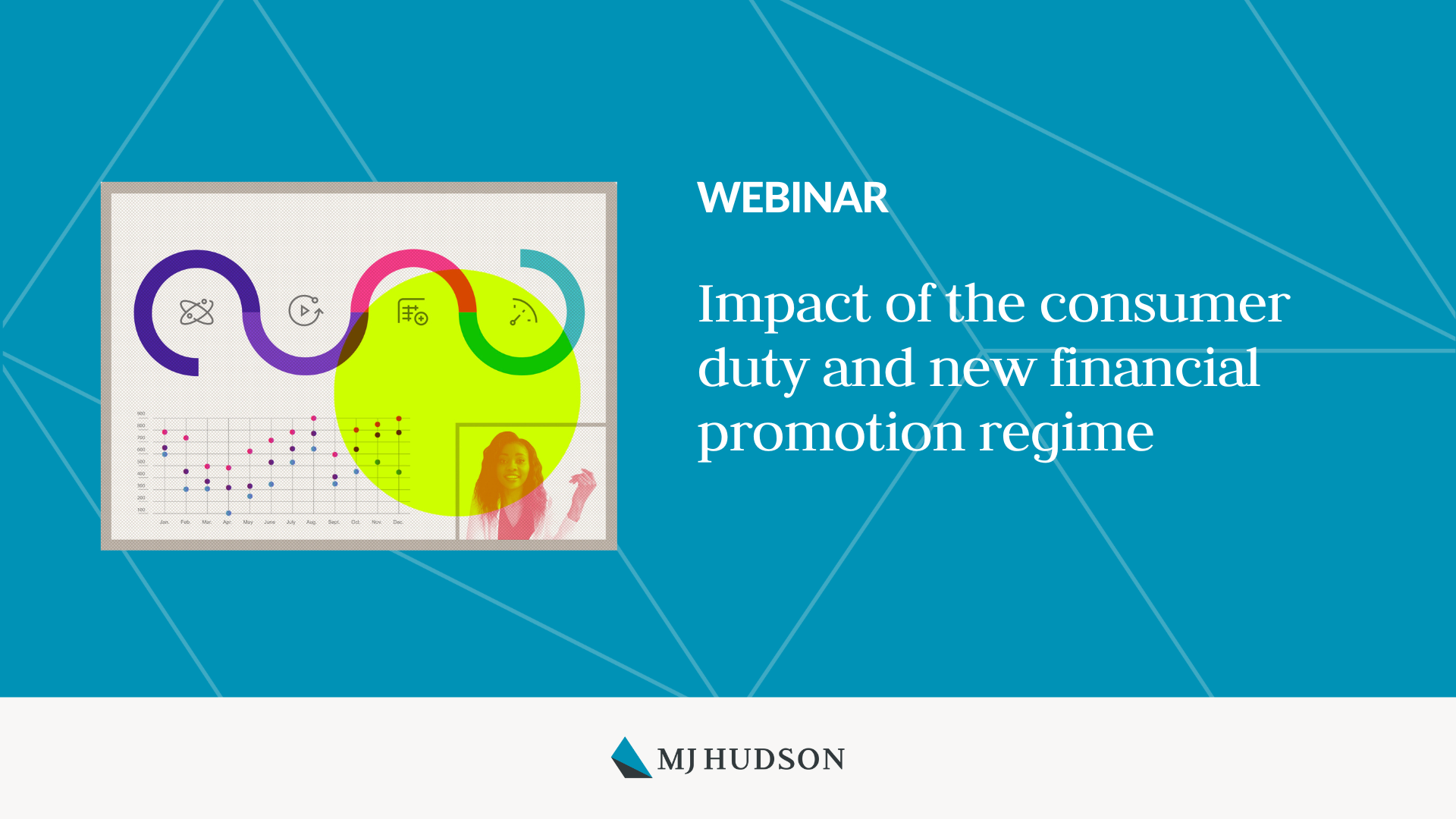 webinar
Impact of the consumer duty and new financial promotion regime
Mike Booth discussed how the management and marketing of private funds in the UK will be impacted by the new Consumer Duty, and the next steps for those marketing and managing private funds.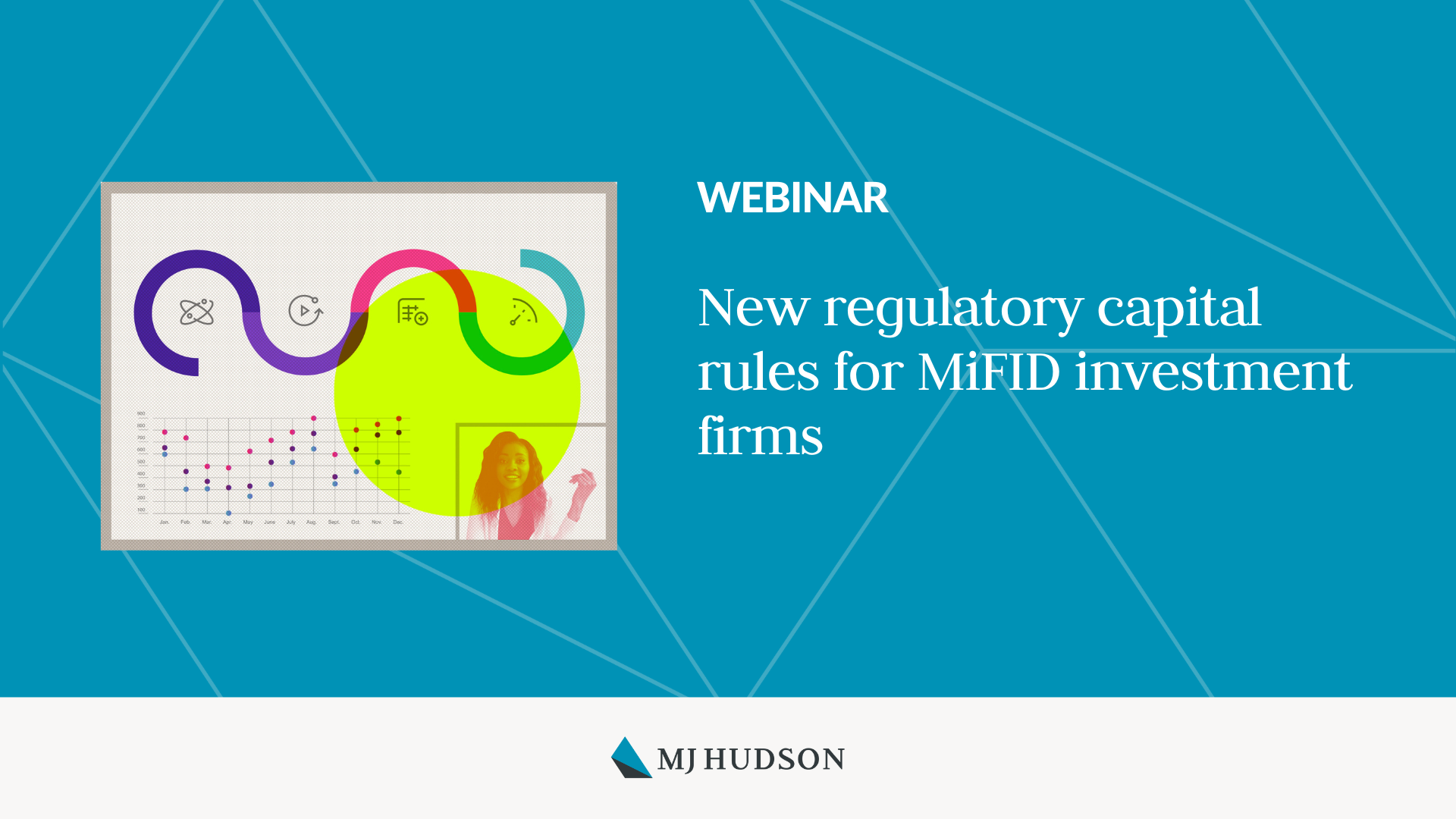 webinar
New regulatory capital rules for MiFID investment firms
This webinar focuses on the new regulatory capital rules coming coming into effect in 2022 for MiFID investment firms and is particularly relevant for those that currently have an exempt CAD regulatory capital calculation.
Sign up to email alerts